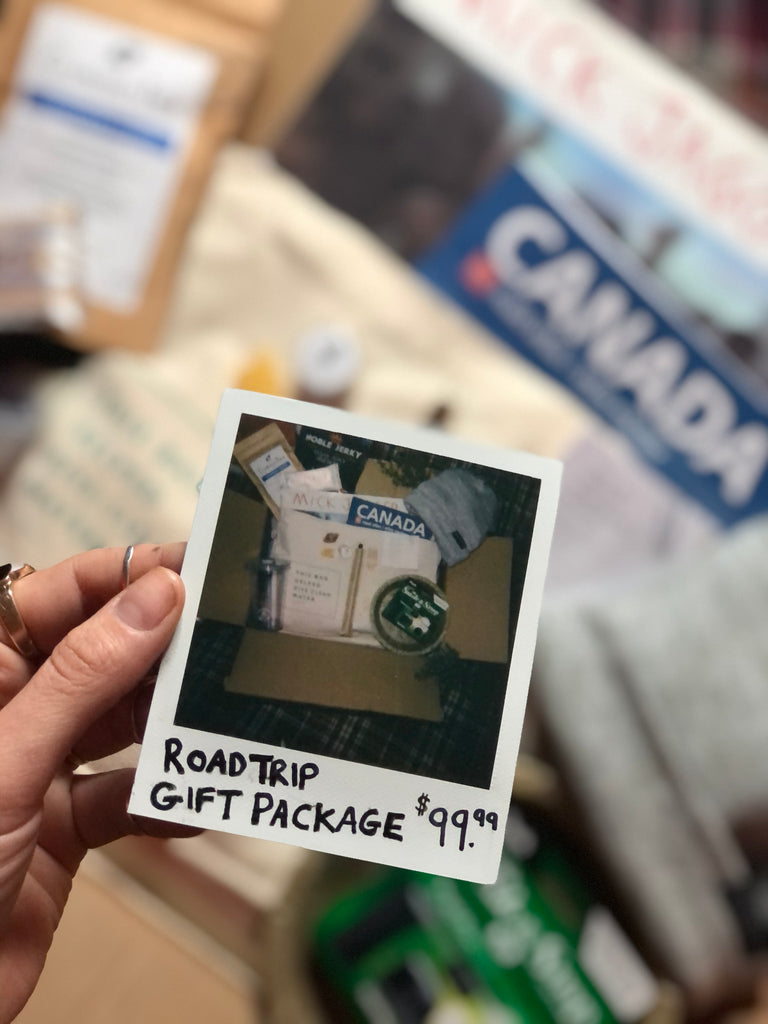 Road Trip Gift Package
This Holiday Gift Package features local and ethically sourced items essential for the perfect road trip. 
Included in this $99.99 bundle you will receive:
Toque from Toronto-based company, Tenfed. With every purchase made 10 meals are provided to starving children. 

Tote bag from Thisbag.ca. All profit from this amazing organization is donated directly back into the community for those who have been directly affected due to Covid-19.

Re-useable Buble Tea Cup with stainless steel straw and cleaner. A 2018 start-up initiative to reduce single-use plastics, leading to over 10,000 BBT cups sold. Discounts available within Metro Vancouver when you bring-your-own BBT cup.

Plant-based snacks from the ultimate vegan shop, Vegan Supply. Featuring a savory and sweet option - hope you like vegan jerky from Vancouver's own Noble Jerky and white chocolate peanut butter cups!

FOLIUMWARE, a 100% biodegradable, compostable alternative to single-use eating ware such as plates, bowls, cutlery, and straws. Founded in Vancouver, BC solemnly for the purpose of bettering our planet, these products are made JUST from 

Shorea Robusta leaves, once matured, then harvested. 

NO TREES SACRIFICED IN THE MAKING. NO SOGGYNESS. NO EXCUSE TO GO BACKWARDS.

Curiositea Vancouver is made with the purest of ingredients. With hints of mango and colors reminiscent of the tropics, enjoy their tea of the month, Caribbean Caress. (50g)

All-natural, vegan, Italian face creme from Willow's Wax Bar. 

VEGAN / CRUELTY-FREE / ETHICAL BEAUTY SERVICES

Two different types of calcite crystal from Vancouver's newest crystal distributor, ASTROBOY.CA. The red calcite vibrates the base & brown chakra( the top to bottom essentially)- This stone is amazing for bringing awareness and clarity to a person. It is extremely grounding and helps to protect you from overexerting your energies in a negative way. The yellow calcite vibrates your solar plexus chart also known as your third chakra. This crystal is amazing for turning over a new leaf! It aids in shredding old ways and bringing in positive new habits, with confidence and self-assurance, allowing you to start with new endeavors!

Yeah, we all have Google Maps, but what about when the phone dies...Do you have backup guidance? Canada's Road Atlas book highlights all provinces, backroads, and highways leading you to wherever your heart desires. This is a must-have when planning a road trip and a great way to teach yourself the paved and unpaved roads of your country. 

Vintage vinyl from Beat Street Records. Whether you chuck it up on the wall or throw it on the record player these hand-selected artists will not disappoint you.

Last but not least, disposable 27-picture FujiFilm camera to capture the moment.